Home, Il rifugio, Itinerari, trekking
PAGARÌ MADONE DE FENESTRE VIA REFUGE DE NICE
From Rif. Pagarì, 2650 m, following the way showed by a panel, stone men, and red marks on the rocks, you can walk on a path among small walls, up to 2730 m (20 min.) where you find another panel. Following red marks, you will reach briefly a ridge, that you easily climb walking, 2795 m, (30 min.). Others stone men and red marks will bring you threw a path to Passo di Pagarì, 2820 m (45 min.). The view is marvelous: forward to north you can see Rosa, Cervino, Gran Paradiso, Bianco, and Viso. Forward to south Nice, Antibes, the boats in the Mediterranean sea, and Corsica.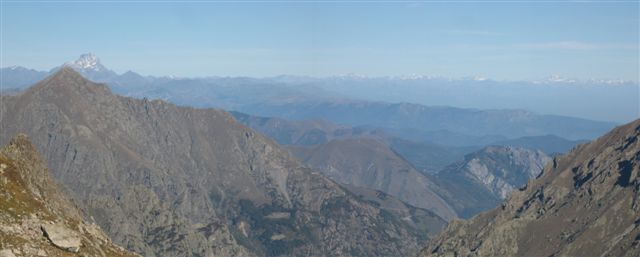 From here, you start to walk down, on a small path. The path descends for 10 minutes before its 180 degree turns get more tightened and then gets to the little valley below the Pass of Pagarì ( roughly at 2650 meters ). Having reached this, at a tall kern, climb down to the twin lakes of Clapier: Lacs Jumeaux de Pagarì (or Lacs du Mont Clapier), 2535 m, forward to Refuge de Nice. You only have to walk down to the feet of Ref. de Nice. If you want or need, you can cross the wood bridge, 2195 m (3 h 15 min) and climb to the mountain lodge: Ref. de Nice, 2232 m (2 ore e 40 min.). Otherwise you can directly follow white-red marks (GR52 Grande Randonnée des Alpes Maritimes) descending to Lac de la Fous and walking all its right side up to its wall.
Going down, you will soon find a panel (number 416), 2165 m (3 h 10 min), where you let the main path that goes down in the valley, turning instead right (white-red marks), climbing on a small path up to 2185 m (3 h 25 min), where a big rock is.
The way now passes through grass, conquering the center of the valley up to a moraine, and going on forward to the deep cut of

Pas du Mont Colomb, 2550 m, as shown in the left picture. Looking S, you can see the big paths climbing to Col de Fenestre, and to Pas des Ladres.

The way goes down to Lac du Mont Colomb, 2385 m.

At 2275 m, you can see the valley, and the way turns left, always marked white-red, upto 2110 m a when you can see Madone de Fenestre buildings. Shortly you will arrive to

Ref. Madone de Fenestre, 1910 m (5 h 30 min). For reservation, Tel refuge 0033 493028319.
FROM REF MADONE DE FENESTRE TO SAN GIACOMO VIA COLLE DI FINESTRA
Leaving Ref. Madone de Fenestre, 1910 m, you must climb the big path on your left, north – east direction. Soon you will find number 368 wooden panel (20 min), where you let on your left side the GR52 (Grande Randonnée des Alpes Maritimes), marked with red – white marks, because it goes to Pas des Ladres. You instead go on following the main and bigger path forward Lac de Fenestre and Col de Fenestre.
From now upwards there will be no others marks, but the path is so big that it is impossible to miss it. Going on you will pass Vacherie du Magnin, 2135 m, where you will follow the path, because the way on your right hand, marked in yellow marks, goes to Terrasse du Gelàs. Following the main path you will reach Prairie de Fenestre, with Lac de Fenestre, 2265 m (55 min) and shortly after some military abandoned 2305 (1 h 5 min), where another small path turns left to Pas des Ladres, while your way turns right to the pass, now closed. At 2445 m (1 h 25 min), another, last, possibility turns left to Pas des Ladres. Here is located panel number 369, and close after Colle di Finestra, 2474 m (1 h 45 min).
On the other side of the pass, you only have to follow the main path, passing an ancien building: Ricovero Lombard, and lower, at 2085 m (2 h 15 min), another abandoned building. Continuing, you'll reach the panel indicating Pera de Fenèr, 1910 m (2 h 40 min). You do not turn, but go on descending the main path, and arriving to Rif. Soria-Ellena, 1840 m (3 h).
From here you only have to descend the small road, up to S. Giacomo, 1225 m (4 h 30 min).
Home, Il rifugio, Itinerari, trekking