Home, The Lodge, Getting There, Hiking Routes and Mountains Climbs, Maps and Guides, Manager's (my) Thoughts
About us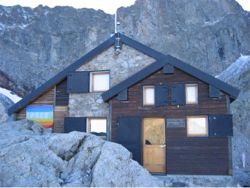 The lodge is a one-story structure of wood and brick, with a loft, and houses a coffee bar / kitchen, dining room, Three bedrooms, three toilets, and the possibility for hot shower. Sleeping accomodations: 24.
Winter room: equipped with a rescue telephone and 6 beds with blankets, very basic winter room (only 6 sqm) remains open when the lodge is closed.
Services Provided when in operation: wood heat when needed (with provisions for hanging clothes up to dry), running water, a photovoltaic lighting system, public and rescue telephones, tables and benches in the open and a refreshment service and coffee bar at Italian Alpine Club rates.
In operation without interruption from June 15th to Sept 15th (to Sept 30th if possible)
Lodge phone:(0039) 0171 97 83 98 (availabe during operating time). Manager addresses: (0039) 380 71 08 075 (available during hlodge closure time), rifugiopagari@libero.it or Pittavino Andrea, V. pramallč 113, 12020 Villar San Costanzo, CN, Italy
Home, The Lodge, Getting There, Hiking Routes and Mountains Climbs, Maps and Guides, Manager's (my) Thoughts